Screenshots:
Windows Control Panel integration:
---
Configure startup options:
---
Manage database aliases:
---
Integrate your favourite Firebird tools: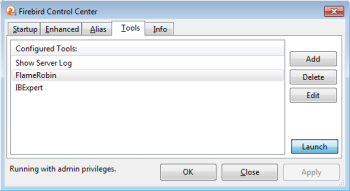 ---
Access Firebird Control Center from the system tray:
Features
Early Firebird 1.0.x versions did not include a control panel applet to start/stop the server (as known from Interbase 6 Open Edition). So I've created my own "Firebird Control Panel Applet". Since Firebird 1.5 now includes a native "Firebird Server Manager", I decided to rename my CPL to "Firebird Control Center" to avoid confusion.
Intergrates nicely into Windows Control Panel on Windows XP, Windows Vista, Windows 7, Server 2003, Server 2008, Server 2008 R2.
(also known to work on Windows Home Server, Windows Server 2008 Foundation)
Control whether the server starts up as a service (Windows NT and up), or let the server run as an application.
Configure Firebird to use the Firebird Guardian. Guardian will restart the server process in case of a crash.
Set autostart option. Normally, the Firebird server is automatically started on Windows startup.
Put Firebird Control Center into system tray. You have access to all Firebird Control Center functions by clicking the tray icon.
Integrated alias manager. View, create or edit database aliases which can be used by client application to access database on server without knowing the exact file path.
Use the Tools Manager to register your favourite Firebird Tools into Firebird Control Center Tray Icon.
If installed, FlameRobin is automatically detected and added to the tools menu.
View the Firebird Server log file, access the firebird.conf file or open up a Windows Explorer in firebird's root directory.
Notes
Due to registry key changes in FB1.5, the Firebird Control Center is not compatible with Firebird 1.0.x. If you need a Control Panel for Firebird 1.0.x, please download fbmgr V0.22.
Firebird Control Center is not able to switch between different Firebird server instances (for example switch between Firebird 1.0 and Firebird 1.5). If you would like to have both Firebird 1.0 and Firebird 1.5 running on the same machine, please look at InterBase and Firebird Coexistance-Project on Sourceforge.net.
What's new?
V0.4.4, 2015-05-07

small bug fixes
Compatible with FirebirdSQL 1.5, 2.0, 2.1 and 2.5 (32 and 64 bit)
Runs on Windows XP/Windows Server 2003 or higher
Works on both 32 bit and 64 bit Windows (wow64)
License
This package is Free Software available under Mozilla Public License V1.1.
You may obtain a copy of the License at http://www.mozilla.org/MPL/MPL-1.1.html
Download
Software downloadable here is distributed on an "AS IS" basis, WITHOUT WARRANTY OF ANY KIND, either express or implied.
Current Version

Firebird Control Center with Installer:
fbcc-0.4.4-setup.exe (1.6 MB, V0.4.4, 2015-05-07)


Sourcecode:
fbcc.src.7z (104 KB, V0.4.2, 2010-10-16)


To compile yourself (Delphi 2010), you'll the the following 3rd-party components:

Old Versions
Old version for use with Firebird 1.0:
fbmgr-setup.exe (790 KB, V0.2.2, 2003-11-22)